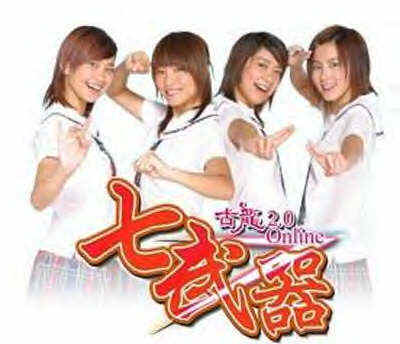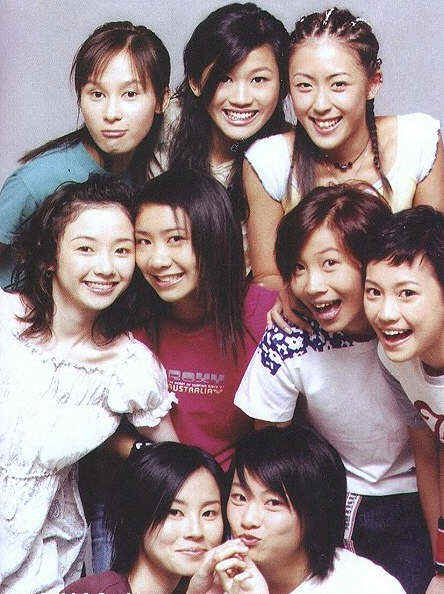 Cookies, Kary Ng Ka Wing is the baby of the group as well as a key member of the group as the group's lead vocal. Her speciality is singing. Her idol is Elva Siu Ah Hin. Her birthday date is 09/06/1986.
Helena Ma Si Hung likes sunshine and the beach. She has a way with children and likes to be clean and neat. Her idol is Anita Mui Yim Fong because of her stage presence. Her birthday is on 03/12/1983.
Serena Po Sai Yi, the oldest member of the group. An avid fan of astrology she is looking for a Cancerian boyfriend because he would be faithful (Your Chaffing Editor: uh oh). Her idol is Coco Lee Man. Her birthday is 3/8/1981.
Theresa Fu Wing was once a model, so her speciality is posing. She is looking for someone with his own mind, honesty and talent, someone who likes and knows how to write songs and lyrics. Her idol is Stefanie Sun Yanzi because of her easy going personality and music talent. Her birthday date is 22/09/1984.
Angela Au Man Si is energetic and open. Her speciality is hip hop dance and her ideal mate has to be a great dancers as well. Her idol is Jan Lam Hoi Fung because he has his way and can bring out Hong Kong culture -talented yet influential. Her birthday is on 25/1/1983.
Stephy Tang Lai Yun's speciality is doodling. She likes to draw do it yourself designs on her group mates' clothes. Her idol is Faye Wong. Her birthday date is 15/10/1983.
Gloria Chan So Ying looks quiet and refined. A fan of Yiu King's work, her speciality is literature. Her ideal mate has to be a faithful nice guy with manners. Her idol is Andy Lau Tak Wa because of his perseverance. When she was younger she was a mad fan of Daniel Chan Hiu Tung. Her birthday is on 4/12/1984.
Miki Yeung Oi Kun is active and easygoing. She feels her specialities are her sweet smile and her glittering eyes. Her ideal mate has to be as active as she is and also with a sense of humour. Her idol is Stefanie Sun Yanzi. Her birthday is on 14/2/1985.
Elaine Ho Yi Ling is a favourite among students due to her petit size and sweet face. Her speciality is Chinese dance, which she has already studied for six years. She jokes that her expertise is in imitating animals like monkeys and cows. Her idol is Andy Hui Chi On. Her ideal mate has to cherish her. Her birthday is on 22/08/1985.
Stephy Pictures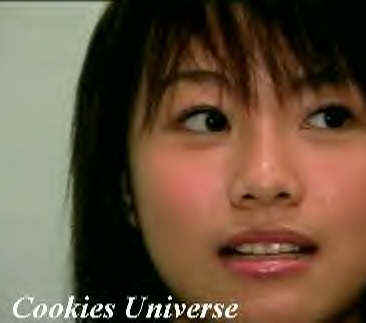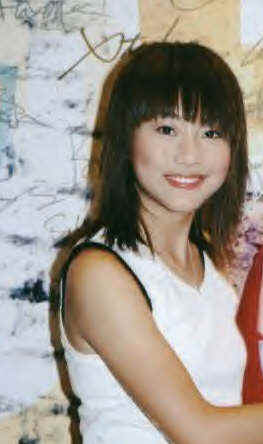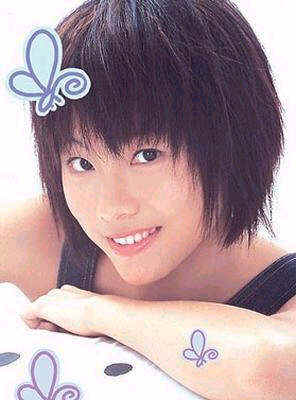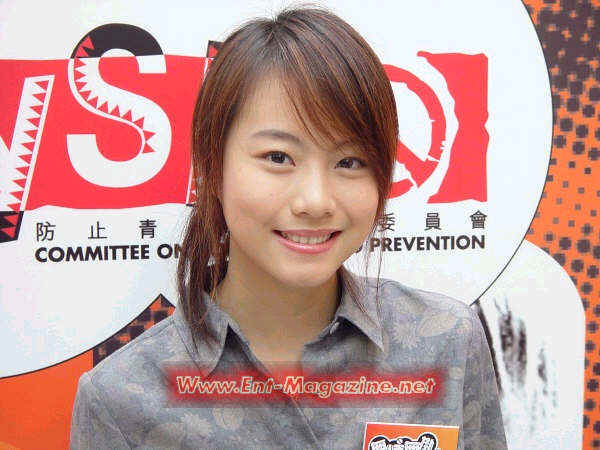 Stephy Make up Tips
Stephy uses very natural colours and keeps her make up very minimal, she does not need much make up because she is already a natural beauty! to copy her look we are going to be thinking of very nude and natural shades for example pinks and beige. to achieve this look, clear complexion is vital, follow these steps to achieve her look!
To create this look:
1. Use blotting sheets that take away excess oil from your face, try MAC oil blotting tissues, £7.50.
2. Then apply concealer gently on your face with Bobbi Brown Creamy Concealer kit £24 which has a concealer on top and loose powder in a neat jar. Apply this with Bobbi Brown Make-up sponge £5 each. Dribble a blob of foundation on to the back of your left hand (right if you are left handed) and dip sponge on to it. Press the sponge on to your skin then roll it to blend (don't wipe!). Press and roll, press and roll, starting in the centre of your face- nose, chin and between your brows. Cover your eyelids and sockets but leave outr eyes clean or lines may form. Lighten your touch as you work outwards to aviod the dreaded make-up mask look. This will give your face a flawless look which is needed to create this look.
3.For the eyes, apply a light touch of Shu Uemura custom eye shadow palette, £55.50 which consists of different shades of pinks, if you are on a budget, try using Almay stay smooth anti-crease eyeshadow in sugar plum/ Biotherm Play on eyeshadow(No. 310)/ Red earth sorbet cheek (No.pk004) or Maybelline Mono eyeshadow (no.12). Do not apply pink over the crese line of your eyelid, what you could do is to apply a shimmery silvery light pink shadow over it. Using a eyelash curler, curl your lashes on both eyes, making sure you have caught each and every eyelash, then use Mabelline Lash discovery mini-brush mascara on your eyelashes. To finish off this look, line the bottom of your eyes with a soft grey eyeliner.
4. Stephy has applied pink blusher dirrectly in the centre of each cheek, so basiclly apply blusher (Ettusais Face colour No. pk3) with a blusher brush.
5. For the lips, apply a cherry red lipstick. Smudge a small ammount of lipstick onto the centre of the lips then using a lip brush spread aroungd the lip covering the lip, then apply a little gloss over the top for shine.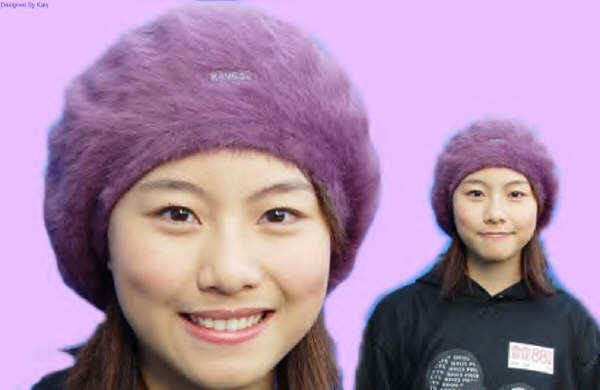 Nine Girls and a Ghost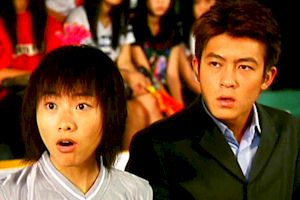 Year: 2002
Director: Chung Shu-Kai
Producer: Raymond Wong Bak-Ming, Simon Lui Yu-Yeung, Philip Chan Yan-Kin, Peter Chan Chi-Keung
Cast: Edison Chen, Stephy Tang Lai-Yun, Miki Yeung, Theresa Fu, Helena Ma, Serena Po, Angela Au, Kary Ng, Elaine Ho, Gloria Chan, Cyrus Wong Ka-Ming, Tats Lau Yi-Tat, Philip Chan Yan-Kin, Lee Fung, Chapman To Man-Chat, Amanda Lee Wai-Man
The Skinny: Teenybopper fluff for teenyboppers. Yeah, this is not a good movie. Yeah, teenage girls and boys probably thought it was pretty damn good. It's all relative.
Review: Okay, we can do this the easy way or the hard way.
The easy way: Nine Girls and a Ghost is made-to-order fluff for its target audience. Screaming teens who dig Edison Chen and the nine girl members of Cookies will probably go wild over the canned platitudes and generally pleasant giggles on display here. Nothing really challenging happens, and that's just the way they like it. The thirteen year-old in me stayed awake and only talked on my cell phone once.
The hard way: This is cinematic regurgitation from the braintrust of Mandarin Films. Head honcho Raymond Wong didn't have to dig too deep for the premise of this film; it was used umpteen years ago in his popular Happy Ghost series. The concept was cheap and cheesy then; it's cheap and cheesy now. Actual filmmaking was probably banned from the set, and anybody with an original idea was beaten before being summarily fired. The thirty year-old in me was mildly amused for forty-five minutes, after which a numbness washed over me that might have been the first stages of brain atrophy. I welcomed the sensation.
Maligned pretty boy Edison Chen stars as the titular ghost, who comes into the life of Kaka (lead Cookie Stephy Tang) when she recieves a Mini Cooper which previously belonged to him. At first his spirit is confined to her car, but before the film can become Edison Chen is The Love Bug, a mass of bubbles shoots out the tailpipe and coalesces into Chen's magnificent form. Girls swoon, and the sound of creaking wood can be heard. Kaka is frightened at first, since her brother Evans (Cyrus Wong) warned her that the car was haunted. Luckily, he's cute; she falls for her new spectral buddy immediately.
However, the Ghost has other plusses. Aside from being mega-hot, he also has powers which enable Kaka to rule the world, or in this case, her high school. She and her group of eight pals need help to cheat on their exams and, more importantly, trounce their rivals during intraschool athletic tournaments. The nine girls call themselves The Cookies, which could rate as the most original thing in this film. Another good name for them would be Lazy and Annoying Cookies. Teenage girls might wish for better media representation; they're portrayed here as generally insensitive, materialistic whiners who only care for their pet hobbies. Each Cookie has a "thing" which defines them: food, fighting, the stock market, cleanliness, makeup, wacky Chinese medicine or something else. Since Kaka is the main Cookie, her specialty is looking adorable despite questionable acting ability.
Up to this point, Nine Girls and a Ghost actually manages some form of fluffy amusement. The dialogue and acting are average-to-nonexistent, and nothing of import happens. Then again, some of the sitcom setup is winning in that Disney Sunday Movie-type way. Watching Kaka use her ghost-given powers to pull off Shaolin Soccer-type moves on the basketball court can be amusing (even though the SFX are mighty fake-looking). It's also a welcome event to have Edison Chen mope around in a film without calling anyone "dog." This isn't Johnnie To, but it's not offensive either.
Then, one hour in, things start to get worse. First, there's a wacky time-out for a Cookies musical number, which is great for fans of Cookies, but probably torture for those who are not. Then there's the appearance of life lessons which were designed by adults to make their children better people, or at least get them to clean up their rooms. Either way, the film urges its teenage audience to care for others, actually try once in a while, and stop cheating on their exams. Minor romance gets found, victory is won through actual effort, and the selfish cute girls drop the "selfish" tag just in time to bid Edison Chen a teary farewell. This is the textbook definition of easy-to-please cinema.
Which is why it's hard to really knock Nine Girls and a Ghost for being anything other than what it is: made-to-order fluff. Really, it's impossible to review a film like this because it's designed to please just its target audience and not everyone else. I happen to be in the "everyone else." I don't know the Cookies, Edison Chen reminds me of my younger cousin before he got his act together, and the canned exploits of evil high school girls are as interesting to me as whale spit.
But the movie also has what counts: cute girls, cute guy, easy-to-digest pathos and an amiable production which fits the people who probably buy the Cookies' albums. Those who desire to check out Nine Girls and a Ghost will get exactly what they expect, which is likely what they want. A guy like me? I get to exercise my brain trying to figure out which Cookie is which, and I get to wonder which Cookie is singing at what time. I also get to wonder if Edison Chen is really such a bad choice for the lead in the proposed Initial D movie (honestly, he might be OK as Takumi Fujiwara), and I get yet another chance to see Tats Lau, Amanda Lee and Chapman To (who was in every other film in 2002). And I get the chance to load a movie review with wall-to-wall witticisms which may amuse or anger. This movie is what it is, which isn't too hard to figure out. As for whether it's really any good, the answer pretty much depends on who you are. It's all relative. (Kozo 2003)
Cookies Profiles

Angela
Name: Au Man Sze , Angela
Nickname: ah na / wen wen

DOB: 25/01/83

Height: 167cm

Weight: 47kg

History:

Before enter showbiz: student

Kindergarten: zhen guang kindergarten

Pri sch: qiu long zhen guang pri

Sec sch: qiu long zhen guang secondary school,

Ambition: teacher

Hobby:

Personal item: wristband

Shoe size: 8

T-shirt size: M

Clothes brand: Agnes b ,Tommy , obey

Shoes brand: gravis ,Adidas , Nike

Fav. Places: Kowloon

Past times: sun tan, write letters

Skills:

Sport: skating

Award: EMI signing competition

Favorite:

People that I detest: arrogant

Animal: dog, tortoise,

Actor/ actress: Zhang Ai Jia

Singer: Lin Hai Feng

Movie: Wu Ren Jia Si

Song: xin ji ren shang

Hand phone: SAMSUNG / 8310

Dance: Hip Hop Dance

Colors: green. Rainbow, blue

Body: waist

Bad habits: straight-forward, will move the body when listen to music, greedy

Work:

Album: Happy Birthday (2002)

Merry X'mas (2002)

Movie: nine girls and one ghost (2002)

Elaine
Name: Ho qi ling, Elaine

Nickname: BB, xi ling

Age: 17

DOB: 22/08/85

Height: 158cm

Weight: 40kg

History:

Before enter showbiz: student, model

Kindergarten, Pri sch: Macau P.T. School

Sec sch: Au men fu xin secondary school,

Hobby:

Shoe size: 6

T-shirt size: cutie, Japan feel

Clothes brand: all

Shoes brand: all

Fav. Places: Macau

Past times: shopping, singing

Favorite:

People that I detest: dry golden hair

Animal: dog

Cartoon character: The Dog

Actor/ actress: chow xin ci, Stephen

Singer: Andy Hui, Chen Qi Zhen

Song type: hip-hop, R&B

Song: xin ji ren shang

Dance: Chinese Dance

Colors: Black, white, pink

Bad habits: a lot

Choosing the other partner: caring, humor

Work:

Album: Happy Birthday (2002)

Merry X'mas (2002)

Movie: nine girls and one ghost (2002)

Gloria
Name: Chan shu ying, Gloria

Nickname: BB, xi ling

DOB: 04/12/84

Height: 166cm

Weight: 49kg

History:

Before enter showbiz: student, part-time model

School: fu tong xun dao secondary school

Hobby:

Clothes brand: all

Past times: singing, reading, photograph

Strange habit: not confident enough, when nervous, talk very fast

Skill:

Subject: Literature

Sport: volley ball

Award: TVB "Cover Girl" most photograph

Favorite:

Cartoon character: Hello Kitty, 9 Forever Friends

Food: bread, chocolate

Movie: shan ji story

Singer: Andy Lau

Song type: Pop

Colors: pink

Choosing the other partner: nice, have feeling

Ambition: novel writer, singer

Work:

Album: Happy Birthday (2002)

Merry X'mas (2002)

Movie: nine girls and one ghost (2002)

Name: Ma si heng, Helen
DOB: 03/12/83

Family members: Parents and one sister

Height: 163cm

Weight: 48kg

History:

Before enter showbiz: student

Education: College

Kindergarten: St. Catherine Kindergarten (HK)

Primary school: MaryKnoll Covent School (HK)

Secondary school: Christian Alliance International School (HK), Sulligent High School (USA)

Unforgetable experience: alone go to USA as exchange student

Hobby:

Personal Item: gradation ring

Past times: sleep

Skill:

Sport: ice skating, swimming, gym

Language: Cantonese, Chinese, English

Favorite:

Animal: doggy

Cartoon character: white seal (mother garden)

Country: Japan

Movie: Center Stage, Billy Elliot

Actor/ actress: Sarah Michelle Geller

Singer: Mei Yan Fang, Sammi Cheng, Britney Spears

Dance: Ballet

Colors: Blue

Body: fingers

Work:

Album: Happy Birthday (2002)

Merry X'mas (2002)

Movie: nine girls and one ghost (2002)

Kary
Name: Ng Jia Ying, Kary

Nickname: Wu Bai mei, mian bao chao ren

DOB: 09/06/86

Family members: Parents, one brother & one sister

Height: 167cm

Weight: 44kg

History:

Before enter showbiz: student

Kindergarten: Victoria Kindergarten

School: Canada International School

Hobby:

Personal Items: Jewellery, handphone, monkey bag

Shoe size: US 7

T-shirt size: small

Magazine: Fashion Japan magazine

Newspaper: English newspaper

Clothes brand: all

Shoes brand: all

Fav. Places: tong luo wan, jian sha zui

Past times: eat, watch movie, karaoke, dance, surf net, sleep

Skill:

Sport: basketball

Awards: 5 awards

Languages: Cantonese, Chinese, English, francish

Favorite:

People that I detest: fake people,

Animal: dog, panda

Cartoon character: Seasame Street ernie, mian bao chao ren, powerpuff girls

Country: Japan, Europe

Food: chicken, tibits

Movie: Notting Hill

Actor/ actress: Sandra Bullock, BradBitt, Josh Hardnett

Singer: Elva, Jay Chow, Lee Hom

Song type: Hiphop, Soul

Song: all songs by Elva / Lee Hom : bu yao hai pai

Dance: Hiphop

Colors: Blue

Work:

Album: Happy Birthday (2002)

Merry X'mas (2002)

Movie: nine girls and one ghost (2002)

Miki
Name: Yang Ai Tong ,Miki

Nickname: Ah K, KK

DOB: 14/02/85

Height: 167cm

Weight: 44kg

History:

Before enter showbiz: student, model

Secondary school: MKP

Hobby:

Shoe size: 8

Past times: reading, singing, swimming, shopping

Skill:

Sport: swimming

Language: Cantonese, Chinese, english

Favorite:

Subject: Biology

Cartoon character: Post Pet

Country: Japan

Food: ice cream

Model: Danielle

Singer: Rong Zu Er, Sun Yan Zi

Song type: All

Colors: Yellow, orange, pink

Choosing the other partner: caring, good to me, have feeling

Work:

Album: Happy Birthday (2002)

Merry X'mas (2002)

Movie: nine girls and one ghost (2002)

Serena
Name: Siao Xi Er, Serena

Nickname: Xiao Xi

DOB: 03/08/81

Height: 163cm

Weight: 47kg

History:

Before enter showbiz: student

Kindergarten: Shen Mu Kindergarten

Primary/ Secondary School: At Canada

Hobby:

Shoe size: 5 ½ or 6

T-shirt size: small size or OVER SIZE

Clothes brand: Mix & match

Shoes brand: addidas

Past times: singing, dancing, watch VCDs

Favorite:

Animal: Cat

Cartoon character: Elmo, Cookie Monster

Food: Durian

Movie: Moulin Rouge, Lan se sheng si lian

Actor/ actress: Lydia, Fang Zhong Xin, Nicole Kidman

Singer: Coco Lee, Mariah Carey

Song: xin ji ren shang

Colors: White, Blue

Body: Nose

Bad habits: greedy

Work:

Album: Happy Birthday (2002)

Merry X'mas (2002)

Movie: nine girls and one ghost (2002)

Stephy
Name: Stephy, Tang Lai Yan

Nickname: Xiao wan zi

DOB: 15/10/83

Height: 166cm

Weight: 48kg

History:

Before enter showbiz: model

School: Fu Jiao Shen Xiang Ling Ji Lian Secondary School

Hobby:

Personal Items: Jewellery, Hand phone, monkey bag

Shoe size: US 8

Past times: Listen music, dancing, Volley Ball, painting

Skill:

Sport: volley ball

Language: Cantonese, English, Chinese

Favorite:

People that I detest: don't care oneself

Cartoon character: Pekkle

Movie: Amelice, Xin Dong

Actor/ actress: Zhang Ai Jia

Singer: Faye Wong

Song type: Pop & Rock

Song: Ren Jian, Yue Ding

Colors: Blue

Body: Fingers

Work:

Album: Happy Birthday (2002)

Merry X'mas (2002)

Movie: nine girls and one ghost (2002)

Theresa
Name: Fu Ying, Theresa

Nickname: Sa

DOB: 22/09/84

Height: 167cm

History:

Before enter showbiz: student, Part-time model

Hobby:

Clothes brand: Causal and colorful wear, have style wear

Past times: Dancing, singing, watch comedy, swimming

Skill:

Language: Cantonese, English

Favorite:

People that I detest: petty and selfish person

Animal: pig

Cartoon character: fatty cartoon characters

Food: Cheese cake, Sushi etc

Movie: Titanic

Actor/ actress: Stephen Chow, Kylie

Singer: Sun Yan Zi

Song type: Hip Hop, R&B, Jazz, Rock

Song: xin ji ren shang

Colors: White, Red

Work:

Album: Happy Birthday (2002)

Merry X'mas (2002)

Movie: nine girls and one ghost (2002)