Special Report on Exercise Wheels
This is report is actually a collection of several reputable companies who manufactured the wheels special for chinchilla. These wheels are totally different from the normal one. They does not have cross bar.
In Singapore, I know someone who can custom made the wheel for me but he charged quite a high rate. To everyone who want to order the wheel for me, you have to wait as my supplier stop producing it anymore. Im still sourcing out for other suppliers. For 12 inches, the wheel cost about S$100+. For a bigger one, the wheel cost about S$200+. I admitted it is rather expensive but it is a good buy if you does not want your chinchilla to be hurt in any ways.
Wheels are very good for chinchillas that are at least five months old, and for chinchillas that are not pregnant. Exercise wheels are available for chinchillas. Be sure to find at least a 12" diameter wheel (w/o center bar) or 15"(w/ center bar) for their safety. Many are made of wire mesh, but the best are solid metal runners. These wheels are often referred to as exercise drums. Always secure them to the cage, you'd be surprised at how fast they can run!
Wheels that have ball bearings are preferred. Some wheels can be attached to the side of the cage. This makes it easier for the chin to easily hop in and out of the wheel. It is generally recommended to remove the wheels when there are baby chinchillas in the cage so they do not get caught in or hurt by the wheel. As they grow in size, introduce the wheel so they become used to it while they are young. You can teach an old chinchilla new tricks, but they learn better when they are young and have a lot of energy.
I will update the special report if I find any interesting running wheels on the net or other countries. I will then put it on the web for you all to see and whether you want to purchase it or not. This report is not for printing purposes or other reasons. This is strictly for your reading purpose and for your information
Safe wheeling fun for chinchillas & other critters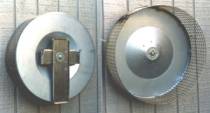 The Chinchilla Go Round has a 14 inch diameter, the perfect size for chins, as well as Richardson's ground squirrels and other similarly sized pets.
Designed with your pet's safety in mind, the Chinchilla Go Round has a solid "back wall" which eliminates the need for cross braces, preventing the possibility of injury to your pet's legs or head.
The wide mounting bracket offers secure attachment to your pet's cage for stable, high-speed running - important with these active critters. In addition, the sturdy construction and 1/2" x 1/2" mesh stainless steel running surface helps assure the safest possible wheel.
Made with a sealed precision bearing, this wheel provides completely quiet exercise for your special pet. The all-metal construction of the Chinchilla Go Round means this wheel is easy to clean, resists chewing and will provide your pet many years of safe wheeling fun.
Flying Saucer Exercise Wheels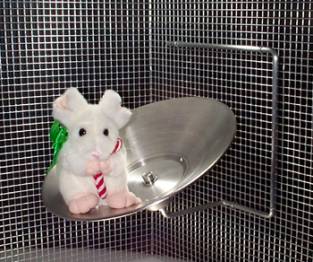 We have developed a wonderful exercise wheel. It went through 10 months of prototype development and testing. I invented this wheel to provide a safe exercise outlet for chinchillas and other small animals. Wheels with slats, bars, cross members, spokes, open wire mesh or screen often result in serious injury to the animals. Feet, legs or heads may be trapped or snared, sometimes requiring amputation or resulting in death of the animals. Since rodents are nocturnal, most injury will occur at night. If a foot becomes trapped, the animal may chew it off to escape. This wheel has no openings, slats or sharp edges where injury can occur. And it also really works well for exercise.
The wheel will fit through a cage door 9" x 12" or 10" x 10". While only 14 inches in diameter, the running path has an effective diameter equivalent to a 24 inch diameter drum type wheel. The greater effective diameter allows animals to use longer strides and run faster than ever before.
Results: Superior respiratory health, cardiovascular conditioning, disease resistance and a lot of enjoyment. We really have some well-muscled and firm chinchillas! Chins of Steel!!! The standard wheel is 14 inches in diameter and handles animals from 4 ounces up to 2 1/2 pounds.
Track Record: The moms run throughout pregnancy and most continue to run up until a few minutes before delivery. So far, all the moms who have been running on the Flying Saucer have had successful births of very healthy kits. Statistically, we realize this success rate will not go on indefinitely but it is a good start. On Sept. 25, one mom (1 lb 13 oz) gave birth to a male kit weighing 2 1/2 ounces (71 gm). The kit now weighs 7 1/3 oz. at 21days.
Use patterns: Adults and weanlings often share or alternate using the wheel. While one is running, the other may jump over the runner and land in the center of the wheel. The runner will usually jump off as the other chin slides down and begins running. They trade back and forth. They run in either direction, change direction while on the wheel and learn to start, stop, mount and dismount the wheel with great expertise. Some seem to enjoy the thrill of suddenly stopping and then riding the saucer around.
We recommend removing the wheels just prior to an expected delivery date because the adults can generate very high wheel speeds. If a kit is exploring and an adult starts up the wheel, the kit could get thrown and injured. Our 2 1/2 oz. male kit was making good progress 'wheeling' at 1 day old when mom jumped on. He landed on a towel and was OK after an unexpected aerial experience! We removed the wheel.
Right now, we do not have a specific recommendation about when to reintroduce a wheel to mom and kit/s. At the point in time when the kits have good jumping skills and good coordination, then reintroduction is reasonable, Age: most likely when the kits are from 6 weeks to 2 months.
Construction: Simple, clean, strong construction using the metal spinning process. The dish is axle-mounted on two pressed, flanged ball bearings on 2- inch centers for greater stability and durability. Dishes are constructed of galvanized steel or aluminum. A standard 3/8 inch diameter bent metal cage hanger bracket, attachment devices and hex wrench are included.
Flying Saucer Exercise Wheel Parts and Assembly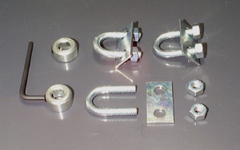 Standard mounting hardware: Three U-bolts, plates and nuts. Also shown are two metal collars with hex wrench to position and retain the wheel on the wheel axle.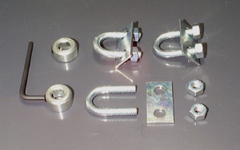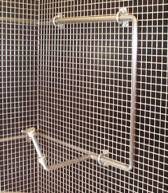 Installation: Place the wall bracket in the cage. Slide the wheel onto the wheel axle and hold the assembly against the cage side wall to be sure you have enough clearance from the adjacent wall. Two inches is fine. Select and mark the proper position, remove the wheel and attach the wall bracket to the side wall of the cage. Ideal positions for the U bolts are shown above. It may be necessary to drill 1/4" holes in the cage sidewall if the wall is solid. The U-bolts fit through most cage wire. Mount the wall bracket so the horizontal leg is two or more inches above the cage bottom. If the horizontal leg is too close to the cage bottom, paws or toes may be pinched or injured when another chin is bouncing on the wheel.
Collar positions: To determine the correct collar positions, first slip the lower collar onto the axle. Next slip on the wheel. Then slip on the upper collar. Position and tighten the upper collar with the hex wrench so it is flush with the upper end of the axle. (See picture right) Next, use the lower collar to slide the wheel up against the upper collar. Tighten the lower collar in this position. Picture below. That's it! Just add Chinchilla!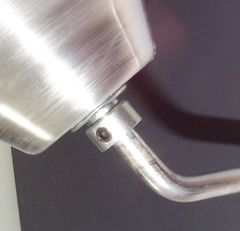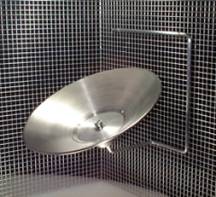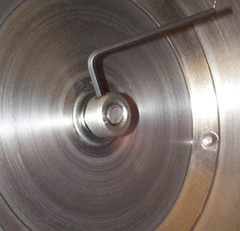 Leo Braun's Small Animal Wheels
Leo Braun makes, in my opinion, the best wheels for Chinchillas. His wheels have no axles and are made from powder coated metal so not even the most determined destructo rodent could destroy them. They come in either free standing or bar hanging versions, 15" wheels are best for Chinchillas and the 12" version would be great for Jirds with no way for them to damage that beautiful tail.

As you would expect a wheel of this quality comes at a price - $99. Leo Braun was going to stop making the wheels and the people at Chinworld persuaded him to do one more run and then another. They are still selling them - the shipping to the UK is a small fortune and costs almost as much as the wheel. If you want any more information on this go to the Google newsgroup search and do a search on the words "Leo Braun"

Here is a review from the Rat and Mouse gazette.

I recently ordered a 15" wheel from Chinworld. They charged $45 to ship it US postal service rather than UPS and it turned up in about a fortnight but I got stiffed for over £20 in VAT and import duty by customs. This meant that I paid nearly £120 for the wheel (been putting all my change in a demijohn for a couple of years to pay for it) so I was really hoping that the little petals appreciated it.
My first impression was that it was a beautifully made bit of kit and absolutely enormous. I had to take the roof off the cage to get it in! The photos above give some idea of it's size - the fluffballs did at least seem interested in what I had leant against the side of their cage!!


It has a sturdy, completely enclosed bearing mechanism that runs completely silently and it affixes to the side of the cage with 3 wing nuts. There is so little friction that if one of the chins sits in it any movement causes it to swing higher and higher from side to side until they start to look quite green - very amusing!!

So my overall conclusion is that it is a brilliant investment and worth every penny. Both chinchillas love running on it already and get themselves really out of breath which is great aerobic conditioning. They do have plenty of room in their cage and get let out fairly regularly, but I have no doubt that it will improve their general fitness and state of health no end.